Take 5: Climate change, sustainability, and equitable access to resources
Elizabeth Johnston
Graduate Academic Assistant, UBC Library & UBC Learning Exchange
MLIS graduate, UBC iSchool
With headlines every day warning us of weather bombs, atmospheric rivers, and heat domes, it seemed an appropriate time to highlight five research items in the Downtown Eastside Research Access Portal (DTES RAP) about sustainability that might be relevant to the Downtown Eastside community.  All items below are free to access. If you need help with anything, use the "Get Help by Email" button on the item pages in the DTES RAP. We will do what we can to help!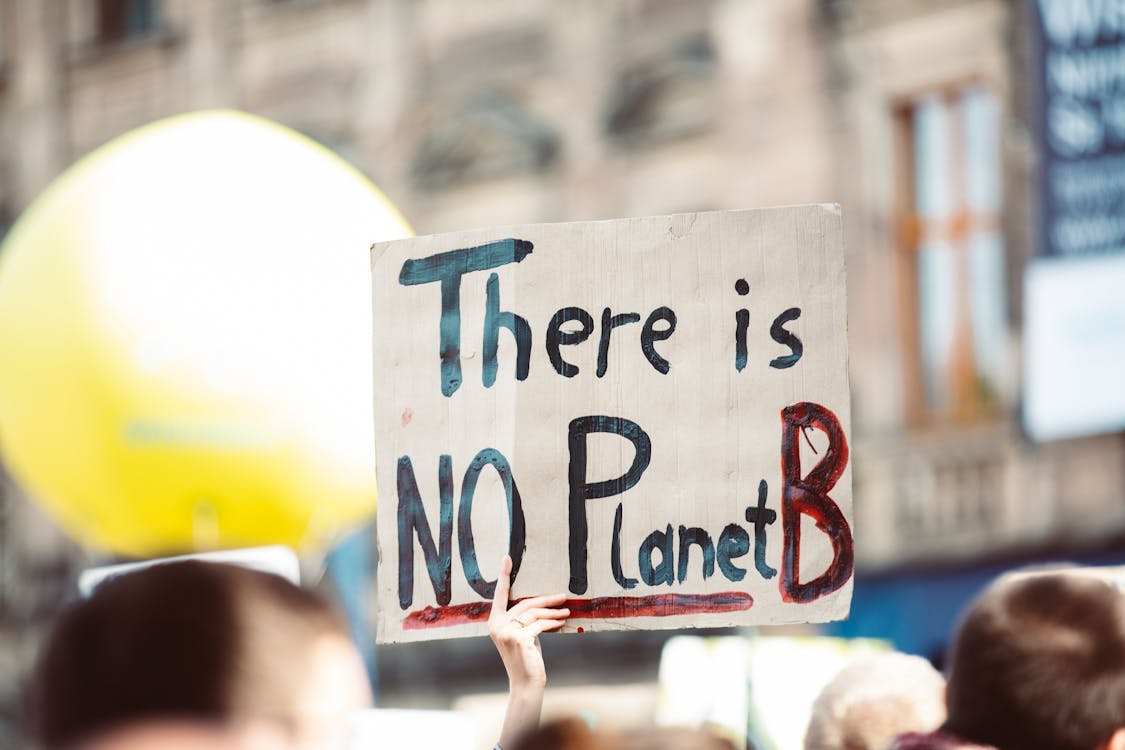 Photo credit: Markus Spiske
Can trees cure loneliness?  
Title: #nomorelonely: building community with 1 trillion trees (2021)  
Link: https://dtesresearchaccess.ubc.ca/object/ext.6590  
In this graduating project for a Master's of Landscape Architecture, UBC student Gary P. Baker explores the connection between loneliness and urban green spaces. He argues that there is a symbiotic, or reciprocal, relationship between people and trees that can result in a greater sense of community, connection, and overall life satisfaction. Simply put, planting more trees can reduce the rate and extent of loneliness in our major city centres. However, addressing loneliness as well as the environment is not as simple as just planting a tree. Baker offers several key strategies for landscape architects and municipalities to consider when designing the urban environment. With the past, present, and future in mind, he pinpoints four critical interventions that will help to rewild and protect, preserve, and grow socially minded greenspaces across the city of Vancouver. No easy task to be sure, Baker's project provides a hopeful and perhaps even achievable path for addressing the concerns of growth and development by creatively designing our urban landscape. Ultimately, more opportunities to enjoy green spaces will help to alleviate the weight of loneliness, long after our days of physical isolation are over.   
How much is Crab Park worth? 
Title: Accounting for Nature: Responding to the climate emergency by valuing natural assets: A primer (2021)  
Link: https://dtesresearchaccess.ubc.ca/object/oc.6524  
 Should we be assigning a monetary value to nature? This is the argument and approach taken in this UBC environmental science undergraduate report. The report explains and expands the practice of natural asset management, which is a strategic conservation effort that places monetary value on ecosystems like forests, coastal areas, shorelines, and waterways. This approach has been adopted by many cities around the world, but not in Vancouver. Viewing the environment as an asset, they argue, helps to demonstrate its worth to those who might not be familiar with the overall field of environmental science. It also helps local and provincial government staff set realistic and appropriate budget priorities. This is especially important as both Vancouver and the global community work to come up with effective mitigation policies and plans to address the accelerating consequences of climate change. But what about the intangible value of our natural world, that is the joy or feeling you might get from taking a walk in the woods or a swim in the ocean? These authors are right there with you. They argue that monetary value is just one language that can be used for managing our ecosystems, but we really need to speak many different languages if we are going to address the climate emergency and communicate its severity to a wide audience. The report highlights the need for a comprehensive and decolonial natural asset management framework that includes multiple voices and worldviews. The report serves as a preliminary body of research, or a primer, about how we can start to re-evaluate and rethink our relationship with the physical environment. This is particularly timely as we move into the next stages of the climate emergency and work to reduce its impact on our vulnerable communities.  
Beyond the farmers markets 
Title: The Right to Food and the Right to the City: An argument for 'scaled up' food activism in Vancouver's Downtown Eastside (2015)   
Link: https://dtesresearchaccess.ubc.ca/object/ext.6412  
This thesis takes a close look at the layered issue of food insecurity in Canada. Grounding her work in key philosophic theories and concepts, University of Manitoba master's student Jenna Drabble presents and analyzes a case study of Right to Food (RTF) activism in Vancouver's Downtown Eastside to understand how cities can address food disparity at a grassroots level. The RTF movement is founded on the belief that people have a right to healthy and culturally appropriate food. She contends that our capitalist system, which disproportionately privileges the few and not the many, directly contributes to food insecurity in our major urban centres. Further, when cities see the solution to this problem in limited terms, like relying heavily on the development of community gardens and farmers markets, they ignore the insufficiencies of our current social, economic, and political infrastructure. Simply put, without meaningful structural change, the issue of inequitable access to food will not just continue, but grow.  
For Drabble, the Downtown Eastside Neighbourhood House is an example of an organization that responds to food distribution concerns with an activist mindset. Rather than addressing the issue of food insecurity using the same, and largely charity based, methods, they created several outreach programs centered on food justice and RTF as a means of empowering the DTES community. She finishes with a call to arms for all RTF activists who seek to transform our current food system into one that is built on dignity, agency, and respect: to better understand the ways in which the social and urban space is produced, and above all, to [re]claim the collective right to the city and our power within it.   
Climate resilience lessons from San Francisco  
Title: In hot water: Explaining Vancouver and San Francisco's responses to the impacts of climate change (2013) 
Link: https://dtesresearchaccess.ubc.ca/object/oc.6611  
Rain is synonymous with British Columbia. Vancouver is even nicknamed Raincouver, as a nod to this constant presence through the fall and winter months. However, in the past few years these rain events have been getting longer, wetter, and more damaging. It's becoming clear that the problem is not the weather but climate change. In this thesis from 2015, UBC PhD student Alexandra Hergaarden Robertson looks closely at the effects and response to climate change in Vancouver and San Francisco. These are two cities with similar social concerns and climate change related risks and ramifications. Notably, both are national leaders in implementing radical mitigation and management policies to address the issue. However, whereas San Francisco developed both physical and social infrastructure strategies, Vancouver focused only on the former. This thesis delves into the reasons for these differing approaches, and demonstrates that effective governance means investing in both. Such a multi-pronged method fosters more resilient communities, not just landscapes, in the face of mounting climate change pressure. Using San Francisco and Vancouver as case study examples, Robertson proposes three hypotheses for why municipal governments might decide to invest more in physical and not social infrastructure. They are: the differences in vulnerability to climate change, political dynamics, and the way that policies have been created in the past. For Robertson, government response to climate change is not just informed by current climate modelling and/or the work of experts and academics. It is also influenced by disaster management policies from the past, and even the personal experiences of city staff and policymakers. In particular, she argues that San Fransisco learned some lessons from Hurricane Katrina, which swept through New Orleans, that Vancouver did not, one of which was the importance of investing heavily in community support systems. Robertson concludes that in order to better serve its most vulnerable populations and prepare for the increasing effects of climate change, Vancouver needs to develop more robust policies that invest in social infrastructure and work harder to build community resilience.  
United We Can 
Title: United We Can: Resource recovery, place and social enterprise (2009):  
Link: https://dtesresearchaccess.ubc.ca/object/oc.6144   
Showcasing the idea that the actions of a few can truly make a big difference, this article presents a case study of the bottle depot and social enterprise United We Can and the role of the informal recycling community, or 'binners' in Vancouver's Downtown Eastside. The authors used a community-based approach to the research, gathering information from many different voices. They grounded their work in social justice theory to highlight the need for a multifaceted approach to waste management. They argue for a paradigm shift, or an entirely new way of looking at public policy design and waste management systems. For the authors, this shift involves seeing waste as both a resource and an opportunity. This means legitimizing and honouring the role and efforts of binners who make a living from this work and are also an integral part of municipal waste management strategies. They propose that a partnership between binners, city residents, and the City of Vancouver has the potential to divert waste from landfills, minimize pollution, and conserve resources. In order to get there, it is necessary to change the public perception of binners from a marginalized group to that of environmental stewards. The case study of United We Can demonstrates that inclusive community centres have a significant capacity to produce socio-economic development and build more sustainable communities. Engaging informal recyclers in inclusive waste management addresses poverty alleviation, social inclusion and cohesion, and ecological concerns. For the authors, public policies that focus on remedying social and environmental injustices are the path forward. We can look to United We Can as an immediate example of what these initiatives can look like, and critically, what they can do. 
Starting your climate change research journey? This comprehensive research guide from the University of British Columbia might be a good place to start!  
Do you have questions or feedback about this article? Do you have an idea for the news section or suggestion for the collection? Please reach out to community engagement librarian Nick Ubels at nick.ubels@ubc.ca.